Prime Minister Jawaharlal Nehru addressing the nation from the Red Fort, Delhi, on August 15, 1947
Today's Date: 16:08:2020
I wake up to a quiet morning today, have my hot cup of 'Chai' (which is an absolute necessity for me to stay sane), sit down in my living room and look outside the window. Unlike yesterday, there is a silence in the air today. Well, what was yesterday?
Of course, it was 15:08: 2020!  India celebrated its 74th Independence Day and even in these grim times, the celebrations were carried out in every part of the nation with utmost precaution. The  Prime Minister addressed the nation from the Red Fort as well with some key messages, details of which you can read in newspapers or online resources. Well, that is not for me to cover!
Yesterday be it my insta feed or the twitter account or any social media was flooded with posts celebrating the historic day when we gained freedom from the shackles of ruthless colonial powers.  A lot of shows on TV, radio and many social media aired many beautiful programs celebrating our Independence.  My heart was elated with a sense of pride just like my fellow countrymen who feel the music of freedom with equal pomp & joy! This very struggle has kept a diverse nation like  India united just like pearls in a string. An incredible India!
But apart from above thoughts, what surrounds my mind today is how easily the celebrations fade out!  If we look at our history, it was one of the toughest and craziest fights for independence. Be it the Mughal era or The British Raj, the concept of nationalism was not even recognized by the people of this very land. So, it was easier for intruders to divide and rule us and how in spite of lacking an identity, people came together to claim their rightful land is something commendable. Every time I read the  Indian freedom struggle, I get goosebumps and I am sure many of my countrymen go through such emotions as well. But my question today is, do we realize the cost that our forefathers paid to give us the free air that we breathe in? I highly doubt it. I am no one to question the terms like patriotism, nationalism, or loyalty to the motherland. These have personal connotations and can mean different to different people. Some might consider, paying taxes on time to be their national duty, some religiously vote and some stand with their chest to even face the bullet at the borders.
However, this feeling of euphoria should not be felt only on certain days is what I personally feel.  It is an emotion that needs to transcend in each of our hearts and maybe guide our actions and life. Just stopping the effort after a  single post or to make your presence felt in the maddening Social Media platform for at least such important days is, in my opinion, not correct. The feeling should linger on in our hearts every day and we can dance with joy and celebrate our growth as a nation on such important days. The youth need to incorporate the feeling of oneness, irrespective of political aspirations, that might have its own agenda, unity in diversity should be celebrated each and every single day, because that is where India lives, in its very essence of Oneness! So I once again wish my fellow countrymen A very Happy Independence Day, today and always.
I leave you with below images so that we feel proud that we belong to such a great nation which in spite of all its flaws is beautiful, for only when we love the flaws( and try to fix them in future), we love truly!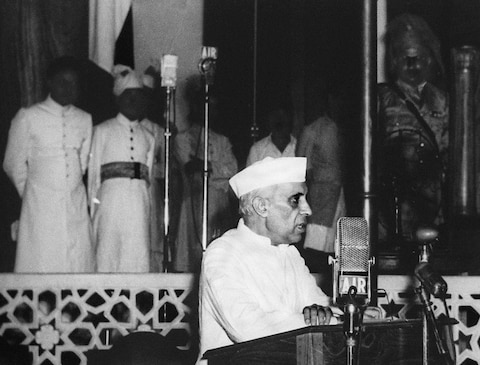 India's first PM- Pt. Jawahar Lal Nehru- addressing the nation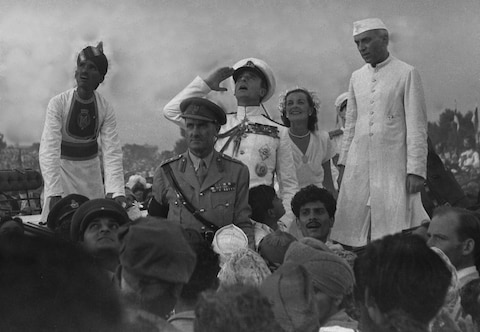 Lord Mountbatten- The last viceroy of India saluting the Indian
National Flag while Pt. Nehru looks on.
People gathering to witness the first-ever Independence Day celebrations!
( PC- From Internet; Views expressed above are solely personal in nature and is not meant to hurt any sentiments)
Love,
Chinmayee