Hello Everyone!
Today let us get to know another book from the world of poetry. It is a book for the children where in many poems are included with interesting and amazing facts about wildlife. The book looks perfect in its presentation style and I applause the effort of the Poet in making such a hands down reference books for kids that is essential to make them aware about their surroundings.
Book Name: Marvellous Rhymes for Children about the Wild
Publisher: Self  Published on Blogchatter platform during Blogchatter E book Carnival 2020
Author's Name: Jyotsna Atre
About the Author: Jyotsna is a nature lover and loves taking nature trails. She loves children and aims to introduce children to interesting and unknown facts about animals of the land ,sea and sky. This is the reason why she has penned down such a beautiful book.
Title and cover feel: The cover page is colorful with pictures of wildlife complementing the content. The white background enhances the images and the print of the Title. It is brilliant as the usage of HD pictures increase the asthetics of the book.
Narration: The narration is lucid and the lyrical poetry makes the presentation very unique .The poems also come with fun facts that will enhance the reader's excitement level. The rhymes are easy to memorize and have a fun element when the poetsess adds special effect to highlight some sound effects.
Content: The book as it's title suggests is a collection of poems depicting the beauty of fauna around us. Short poems describing the features, mannerisms and unique characteristics of every wild life is splendidly portrayed in the book. The pages are colorful and even the font style is apt. The title of each rhyme also catches one's eye! some of my favorite lines from the book are:
Now it's green
And suddenly it turns brown.
A bright blue next,
To match the colors around.
Changing colors
to blend in with its habitat,
That's what a chameleon
Is really ,really good at.
Another excerpt is given below:
Electric eels can send out awfully deadly jolts,
killing their prey with six hundred volts!
Although they are blind,
they don't really mind,
Stunning the prey before it can bolt!
The book is a creative genius and can cater to both child in literal sense and the child within every man. This can be a paperback option and children will simply love it.
It is a treat both to the vision and mind!
What I missed? Nothing really! Because the book was perfect in planning and execution.
So, please hurry up and grab your free copy by clicking the link below:
Download link:
https://www.theblogchatter.com/download/marvellous-rhymes-for-children-about-the-wild-by-jyotsna-atre/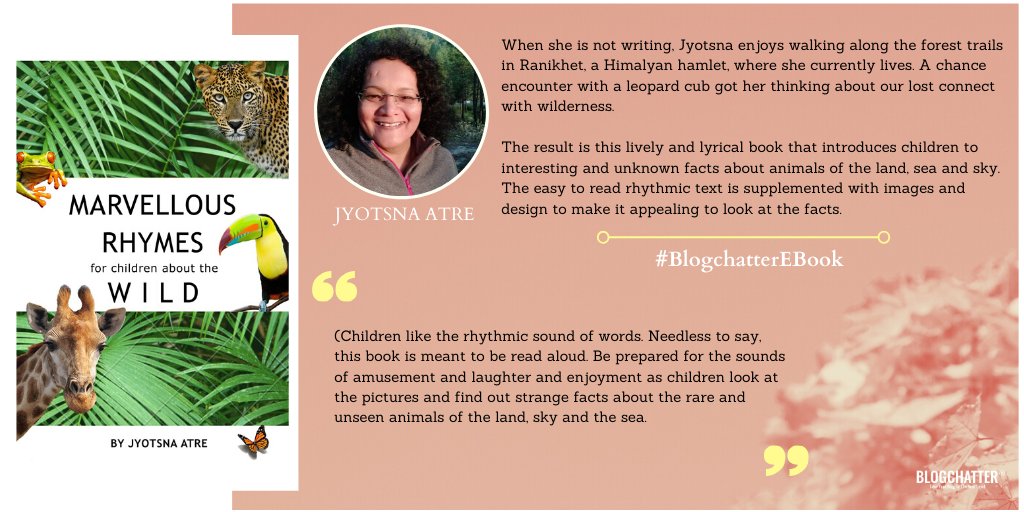 Love,
Chinmayee