Are you a movie buff? Well … I doubt there may be anyone who does not like movies ! And when we talk about movies, the first thing that pops into our head is the world of Bollywood. Indian festivities are lifeless without Bollywood music. I can say that Bollywood is a strong binding factor in our country and people from different religion, region, language and ethnicity in India identify with Bollywood. Bollywood has conquered the world and has fan followings in many countries and Indian movies are huge revenue earners even in foreign lands.
Let's find out more from the Ebook Titled Bolly Talkies- ABC of Bollywood Cinema which I will be reviewing today.
 The Author has directed a beautiful cinematic experience with movies being her lead characters!  Come let us indulge...
Book Title– Bolly Talkies- ABC Of Bollywood Cinema
Published by– Self  Published on Blogchatter platform during Blogchatter E book Carnival 2020
Author's Name–  Archana Srivastava
About the Author– Archana is an MBA Graduate, former HR professional and former Management Faculty . She took a career break when she moved to the US with her husband. Along with blogging, she loves dancing and singing. Celebrating festivals gives her immense pleasure. She is mom to two beautiful kids.
 Title and Cover feel–  The Title very well captures the essence  of the book with pictures of popcorn and stars clearly symbolic of everything related to cinema!
 Narration– The style of narration is comprehensible.  The author has successfully conveyed her emotions while writing the story. The style of writing is quite unique.
 Content- Well this book is a blessing for a Bollywood movie aficionado. Be it Umrao Jaan, Chandini, Burfi, English Vinglish, M.S. Dhoni or Dangal (to name just a few), you can go down  your memory lane and relive the cherished moments of your favorite  movies while reading this book.  The author has presented a very well researched articles about all the movies and has conceptualized the book in a creative manner with twenty six chapters. The love for cinema that the Author has can be  felt once the reader turns the pages of the book as one can find famous lines of the hit songs of the particular movie being narrated by the author. She also has given some personal information like she has been greatly influenced by the movie Chandini  which has influenced her to take up dancing. Such details give a personal touch and the reader can form a bond with the author as well by  getting to know her better. What is unique is after giving brief description of the movie or any unknown fact about the film, the author has added her own perspective and take away points  in each chapter.  This very style adds the narration a touch of individuality by the Author and she successfully captures the crux of the respective cinema being discussed in the particular chapter. She has also been very clear to point out aspects that she has not liked about a certain movie and has portrayed herself as a true critic. I personally appreciated when she points out flaws in a super hit movie like Dangal when she says and I quote:
                               "In spite of being super hit movie with a strong inspirational message at                some places I found the girls and their mother so helpless, as before deciding                      their     future Mahavir never considerate the opinion of his wife nor his                                 daughters, somehow I felt like he is pushing his broken dreams on little girl's                       shoulders, which is not right according to me, maybe I sound wrong here, but ya                 this is my personal filtration." 
         Another highlight of the book is that some of the chapters have a theme to it and movies are categorized under them. Like one chapter is based on Friendship and some unforgettable Hits have been briefly discussed . In some chapters the characters are analysed.   This book refreshes the memory and silently touches the chord of our heart, that vibrates once we listen to super hit Bollywood music or come across famous dialogues.
 What I missed? I think that it would have been better to have sequenced the chapters in a chronological manner( in ascending or descending manner taking year of release as reference). This would have helped readers  in their time travel .
So, my friends, if you love cinema ,especially Hindi Bollywood Classics , this is a book that you should definitely read. Do not miss your chance to download a free copy of the same by clicking the below link !
Download link–https://www.theblogchatter.com/download/bolly-talkies-by-archana-srivastava/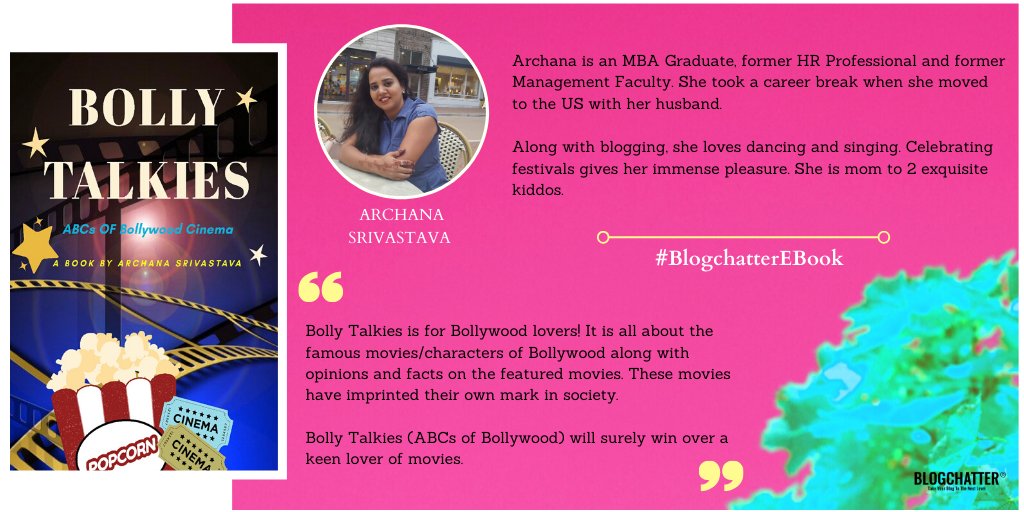 With love,
Chinmayee.