Poetry is a language that captures the grey , illusive and temporary pieces of emotions. It instantly strikes a chord with the listeners and may convey multi faceted meanings. It is the language of the heart and the soul.
I have picked up the book 'Dots and Streaks' by Ellora Mishra which is her debut E book published by the Blog chatter team. This book is a bouquet of emotions and is sure to stir your heart at many moments. I urge all to indulge in this mesmerising experience. I had the chance to interview the Author which is presented below.
Book Title– Dots & Streaks
Author's Name– Ellora Mishra
Published by – Self  Published on Blogchatter platform during Blogchatter E book Carnival 2020
About the Author-Ellora Mishra hails from Odisha, India. An alumnus of BITS Pilani, Rajasthan (B.E. Hons Chemical) & XIMB, Odisha (MBA Finance) she has around 12 years of corporate experience in IT and corporate banking spaces across organizations. She is an avid blogger and loves to pen her musings under her pen name of Ira Mishra. While she quit her job in India and joined her spouse on one of his abroad work assignments, she decided to rekindle her childhood passion in writing.
Title and Book Cover- The title Dots and Streaks is symbolic and represents the marks and traces that one is sure to experience in a life time, as human beings are nothing but the manifestation of their emotions. The book cover is hazy with many intertwined pictures ,sketches and figures giving it a deceptive and intriguing look. Very clever selection by the author to invite the reader to take a plunge into the book.
Narration: The narration is a mix of lyrical verses and Short prose like anecdotes. Both the formats have their own unique style and only when you immerse yourself in the book, you understand it.
Content: The Author has presented her heart felt emotions through her work in her debut E book. She probably has the key to the time machine as she enables it for the readers to pause and capture the fleeting emotions that usually go unnoticed on our day to day lives. Pause, Ponder and develop a perception is the right way to indulge in this poetic extravaganza. She has taken the most trivial things like a leaf or a tree and a bird perched on it and has showed various dimensions to the whole scenario. Be it the palindrome nature of time or the friends forever concept of childhood friends or the rice flakes that a newly wed bride throws into the air, the author has effectively given life to many inanimate objects and has crafted a story so lively, that is not only astonishing but very realistic as well. The pictures are real life based and add to the rustic feel of the book in totality. I loved the captions and the font style. It complements the book completely . Though I have many favorite parts in the book, I would like to refrain from sharing them and urge the readers to personally pick up the book and enjoy it. However the author has shared her favorite part in the interview below.
What I missed? One can question the missing punctuation marks , but when did anyone say that poetry is bound by any specifications ?

Hurry up Guys… This is free to download in the below link! Click below:

Download link for my Ebook- Five Petals:
My Interview with the Beautiful Author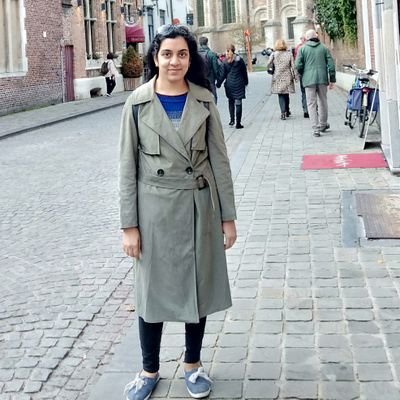 Q-Please introduce yourself.
Professionally an erstwhile corporate banker and by qualifications an engineer and MBA. Writing has always been my safe haven which I love to escape to from time to time. Dots And Streaks is my debut book in the world of writing.
Q-Please tell us how you started writing or what made you think that you can pursue writing.
I have always loved to write since my childhood. I started off with my dairy and a stories journal of my own as a child where I used to love to pen down my daily thoughts and stories secretly. I never really pursued my passion in writing as I got busy with my academic endeavors. I got back to writing when I started my blog in 2006 when I had just started working in my first job. Interestingly, I still continued to blog under my nick name Ira Mishra and loved to keep that identity separate and unknown to people who knew me. Writing has always been therapeutic to me. But yes, sometimes I did lose track of it when professional ambitions took over. But again, kept returning to my passion whenever I needed some solace.
Q-How has been your writing journey so far?
I had never pursued too many avenues in the blogosphere earlier. I used to more like writing for myself so far. It's only when I decided to take a break from the corporate race and joined my spouse on one of his abroad assignments I decided to rekindle my passion and participate in blogosphere challenges.
That's when I tumbled upon A2Z blogging challenge organized by blogchatter. I had actually not planned on the book. I owe 'Dots And Streaks' to the blogging community and the co-participants of the A2Z challenge. It's because of their encouraging words I got motivated to take this step of converting my posts to a book today.
Q-How do you keep yourself motivated to create and deliver?
I personally feel, creativity is a calling of the heart. Whenever the heart calls for it you should go for it and that should be the motivation than anything else. I don't set any delivery targets and deadlines for this. I just yield to my heart's calling in the case of writing.
Q-What has been the inspiration to write the current book & what are your expectations from it?
I tumbled upon A2Z blogging challenge at that phase in my life when my heart and mind wanted to pause, take a break and reflect on life at large. If you see the book 'Dots And Streaks' is a collection of life's musings and common day to day experiences.
In our daily pursuit of life while we are running that sought after illusionary race we fail to take cognizance of life itself. My expectation from the book is to connect with people in such a way that they can pause, reflect and ruminate on their experiences in life and take cognizance of them.
Q-Who do you think are your target audience and what can readers expect from your book?
The book 'Dots And Streaks' is a collection of common occurrences in life presented in the form of verses. Anyone who has experienced simple emotions like friendship, love, ego, longing, hope, loss, desires, expectations etc can find something to connect with the book. The words composed in verses are to evoke your life's experiences and emotions.
Please share your favorite part of the book that you enjoyed penning down. You may also share any experience that you came across while penning down the book.
My favourite lines from the book are
Ahead awaits the path with longingness
For your footsteps to mark their mark
And for the stories with a new main
Waiting to be woven yet again
With another deep breath o' traveller
Dreaming of the sky wide
And with hope tagging beside
Embark on your journey further
Walking deep into the obscure
For life is what it is called
And life it will always be
Keep walking o' traveller
Till you reach that very point
When you can walk no more
And will turn once again to look behind
The day that you will find
That it was not the path
That was yours
But the memories afterall
That were your very own and all
Q-How do you envision your writing journey in future?
As I said, it's always the heart's calling to which I have yielded and that can neither be envisioned nor be planned :)! I will take it as it comes.
Q-Name your favorite authors/poets. Please share any favorite excerpt from your favorite book.
I read more books on fiction than on poetry. I usually read poems from people's blogs than from books. Somehow that way I can connect more with the poems. My favourite author's in fiction to name a few are Amish Tripathi, Mitch Albom, Elif Shafaq, Khaled Hosseini, Amitav Ghosh, J.K Rowling (Harry Potter books), Ayn Rand etc
I am bad at remembering quotes from the books. But let me try
"If a stone hits a river, the river will treat it as yet another commotion in its already tumultuous course. Nothing unusual. Nothing unmanageable.
If a stone hits a lake, however, the lake will never be the same again."
– Forty Rules Of Love, Elif Shafaq
Q-What is one strong philosophy that you live by?
Live Life To The Fullest 🙂
Q-Failure is inevitable in life. Have you ever faced it? If yes, how did you overcome it? What has been your learning lesson that you can share with us?
I better call them as setbacks than failures. Setbacks are part and parcel of life. There is no set formula to overcome them is what I feel. You have to experience each setback yourself, get up dust yourself, learn from it and move on…. Say like learning how to ride a bi-cycle… No one can teach you how to… They can help. But ultimately you have to learn how to balance on your own. And even after learning to balance and ride it no fall is not guaranteed.
Only thing I can say in this example is if you are not enjoying the experience of riding the bi-cycle even after all those falls and all that grit and determination in learning it…….And finally, when you do ride it you feel lost and not worth the effort …..learn how to get off and dump the bi-cycle too. You can always walk, run, jog, ride something else, drive something else, or just relax and stare out of the window too…. Nothing is be all and end all of life… Let others enjoy and do what they like… You do what you like and don't look for endorsements on your choice because no one can or has the ability to endorse anyone else's life.
Q-How has recent pandemic affected your thought process and what is one message that you would want to advocate during these stressful times?
Everything will pass… This too shall. But while this also passes see if you can make some good memories of these moments. After all life is short and fickle too.
Q-What needs to be done to inculcate the habit of reading and writing among today's young generation?
If we are talking about kids….. Yes, they should be introduced to all things… The more the exposure the better… So that they can pick up their choice or hobby going ahead if they love reading, writing or anything else.
As for the rest, I will again say they should just follow what they like. If reading and writing is not something they like inculcating it in them is like forcing it upon them and that will result in more bad than good.
Please give your review links to your book so far.
https://soniadogra.com/2020/06/02/blogchatter-ebook-carnival-dots-and-streaks-book-review/
https://diaryofaninsanewriter.com/2020/06/05/book-review-dots-and-streaks-by-ellora-mishra-blogchatterebook/
http://purbareviews.blogspot.com/2020/06/book-review-dots-streaks-by-ellora.html?m=1
.https://freshdaisiesdotme.wordpress.com/2020/06/09/book-review-dots-streaks-by-ellora-mishra-blogchatterebook/amp/
https://durgadash.com/2020/06/15/lyrical-landscapes-of-dots-and-streaks/
Website : http://livelife2dfullest.blogspot.com
Email ID : ellora280@gmail.com
Social media handles : twitter @ellora280